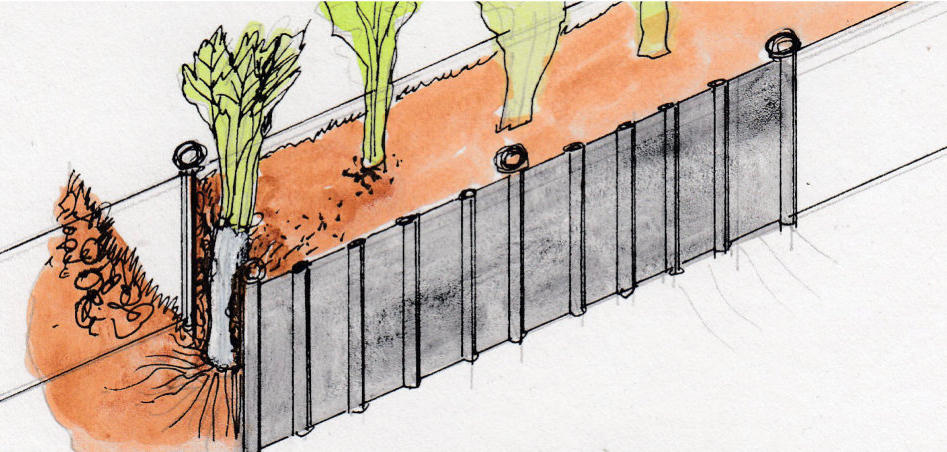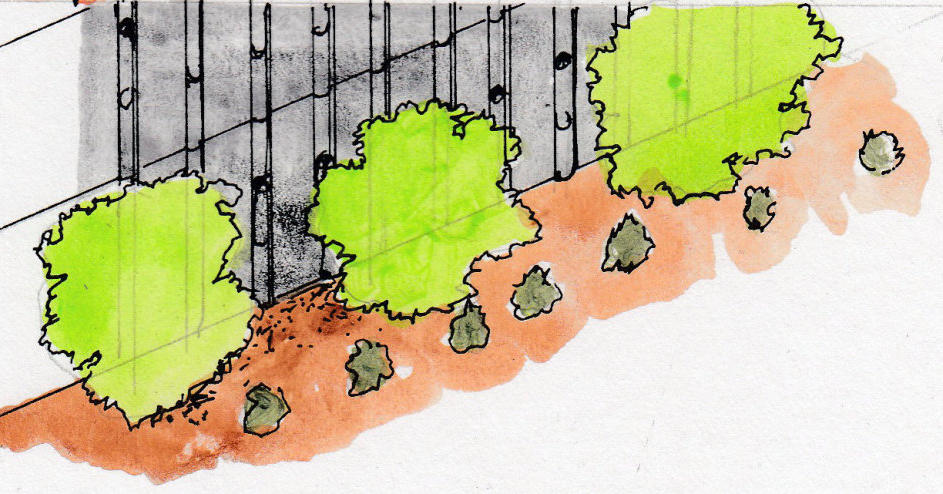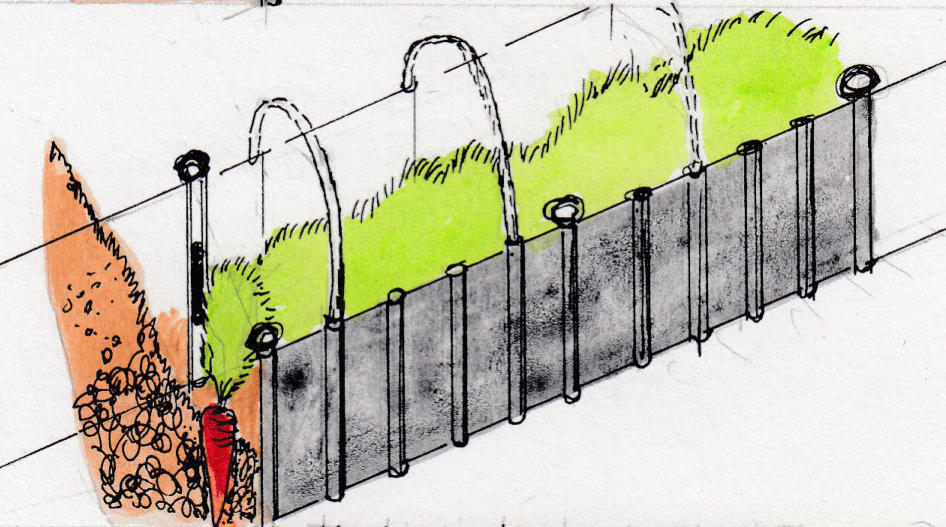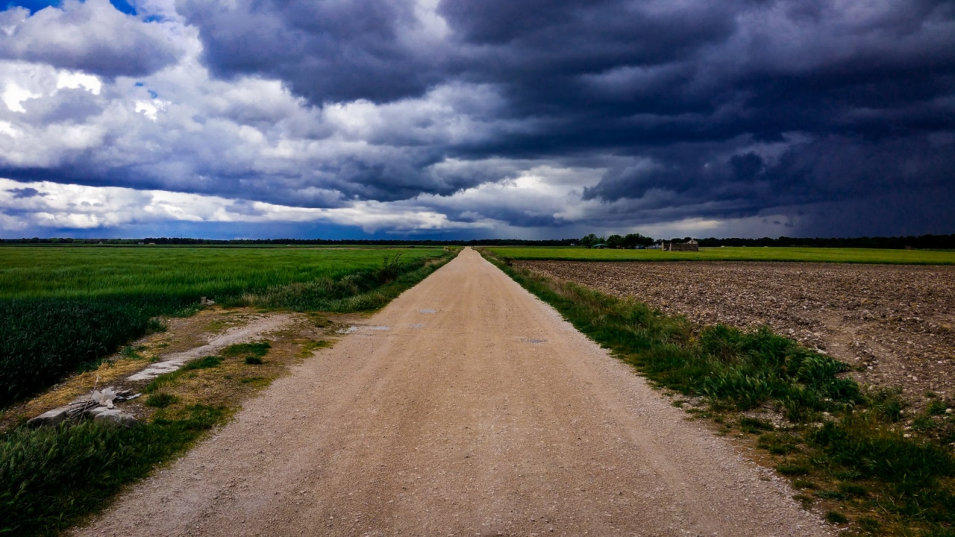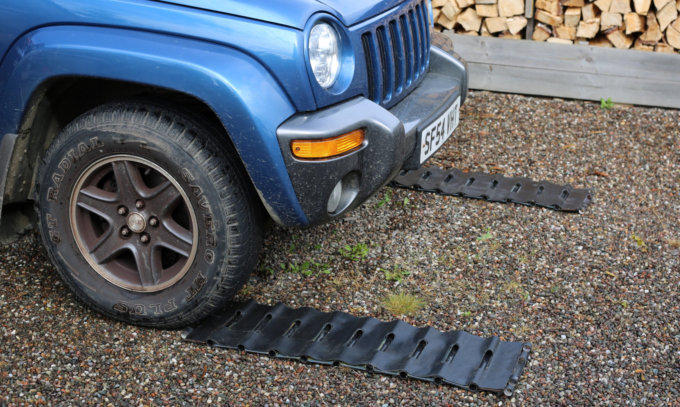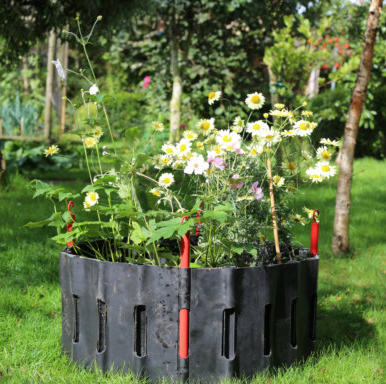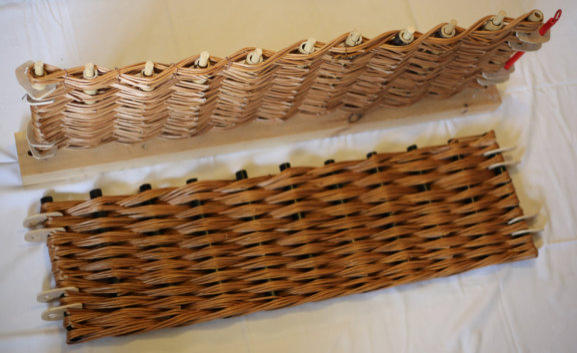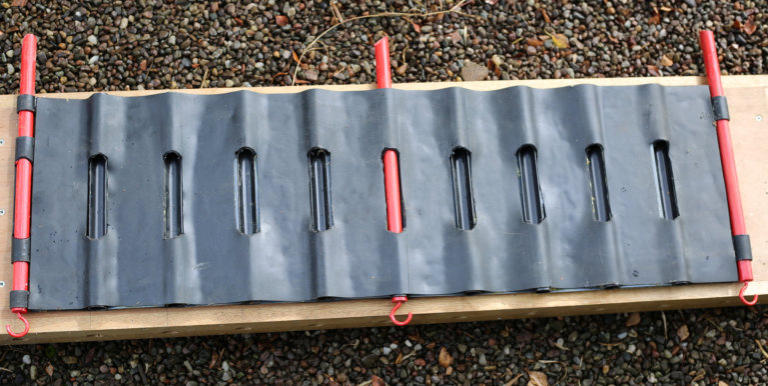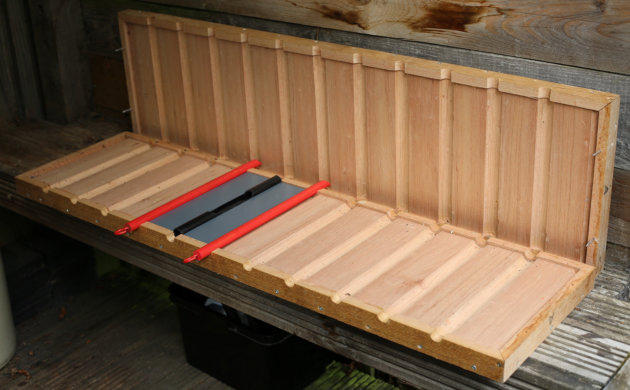 BorderTrack carried in boot to assist in slippery conditions.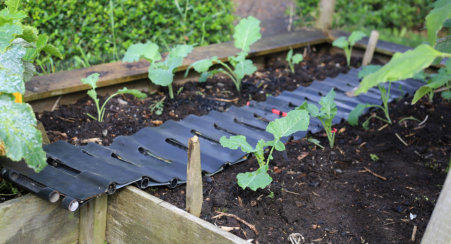 In wet conditions BorderTrack protects soil, but
additionally BorderTrack allows clean access
when cropping.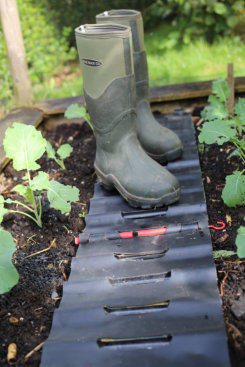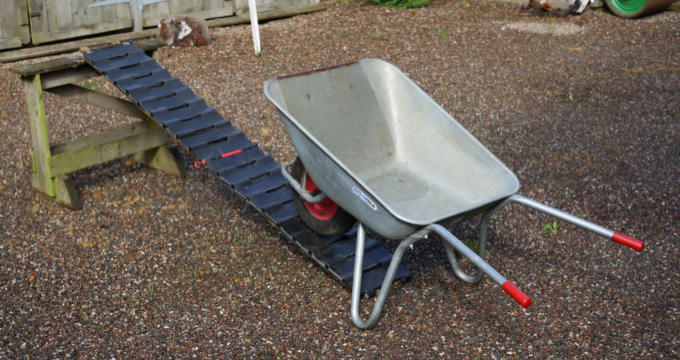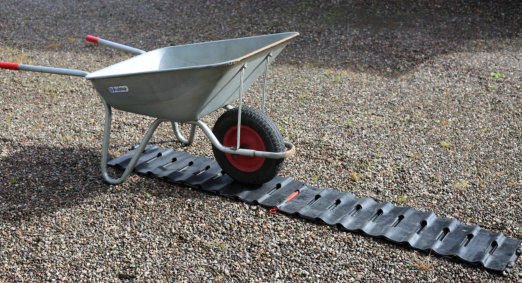 BorderTrack in conjunction with scaffold baulks used for filling skips.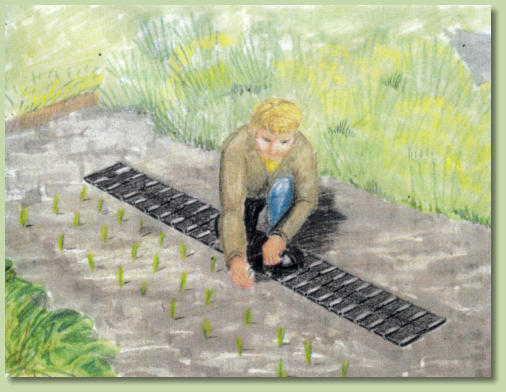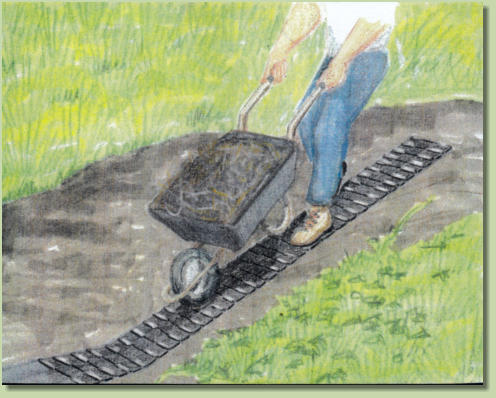 BorderTrack simplifies
setting out and levelling
of beds. It allows accurate
spacing of plants or
seeds. It can be left in
place to perform other
functions after sowing or
it can be re-used
elsewhere
BorderTrack is formed so
as to provide safe foot
and wheel traffic in wet or
muddy conditions, while
protecting the soil from
consolidation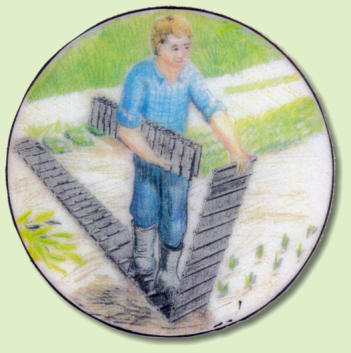 BorderTrack is a new and simple aid to gardening.
It improves access, safety and efficiency.
BorderTrack is re-usable in many applications throughout the four seasons.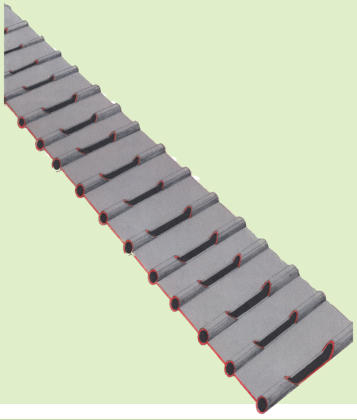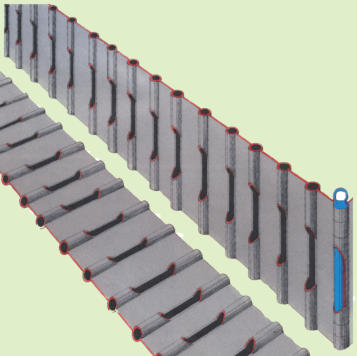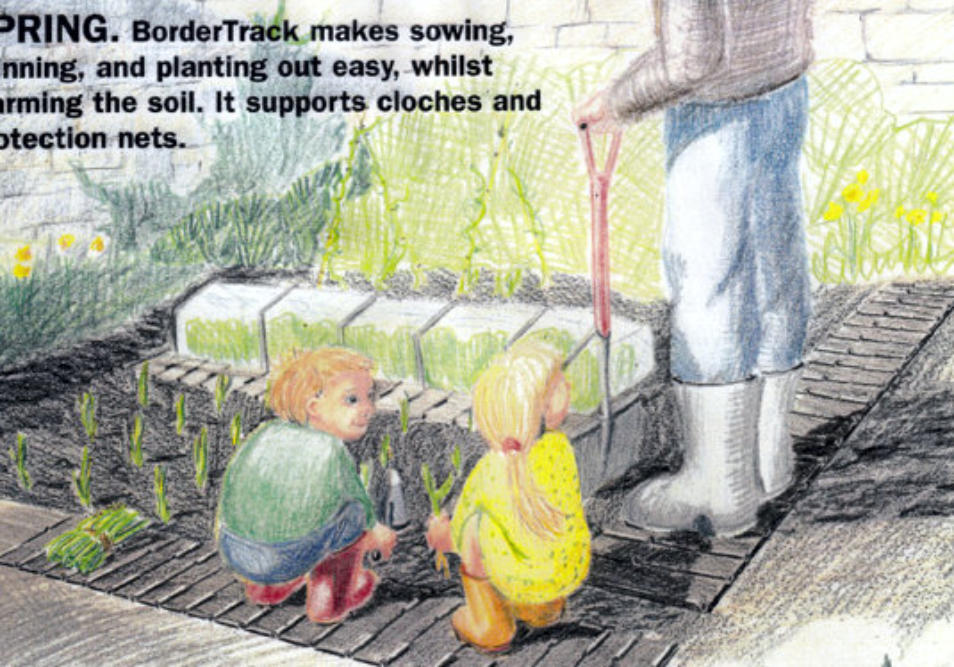 SPRING.
BorderTrack makes sowing,
thinning and planting out easy, whilst
warming the soil. It supports cloches and
protection nets.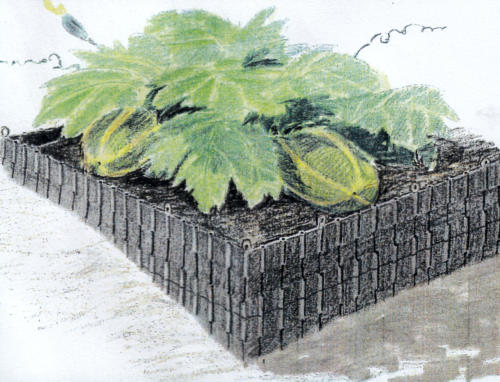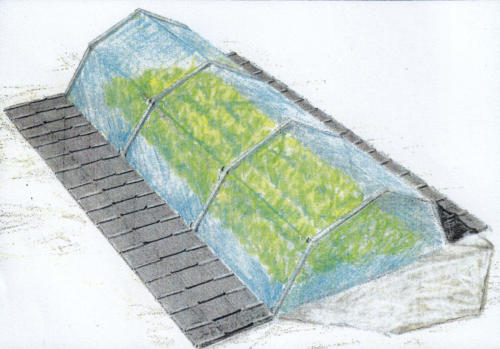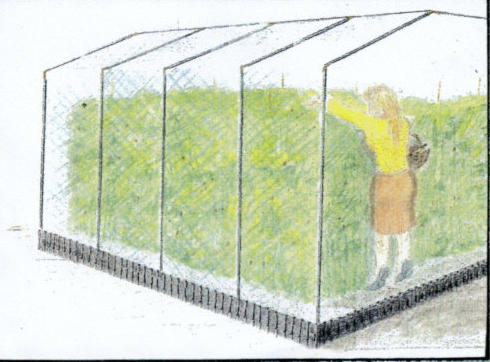 BorderTrack can be used
vertically to form raised
beds or retaining walls in
sloping ground, thus
creating level beds.
Durable border and path
edges can also be forms.
BorderTrack laid flat
formes a base for
compatible cloches
protective nets and
supports of all kinds.
BorderTrack buried in a
vertical position acts as a
base for cages, protective
fences and tall plant
supports.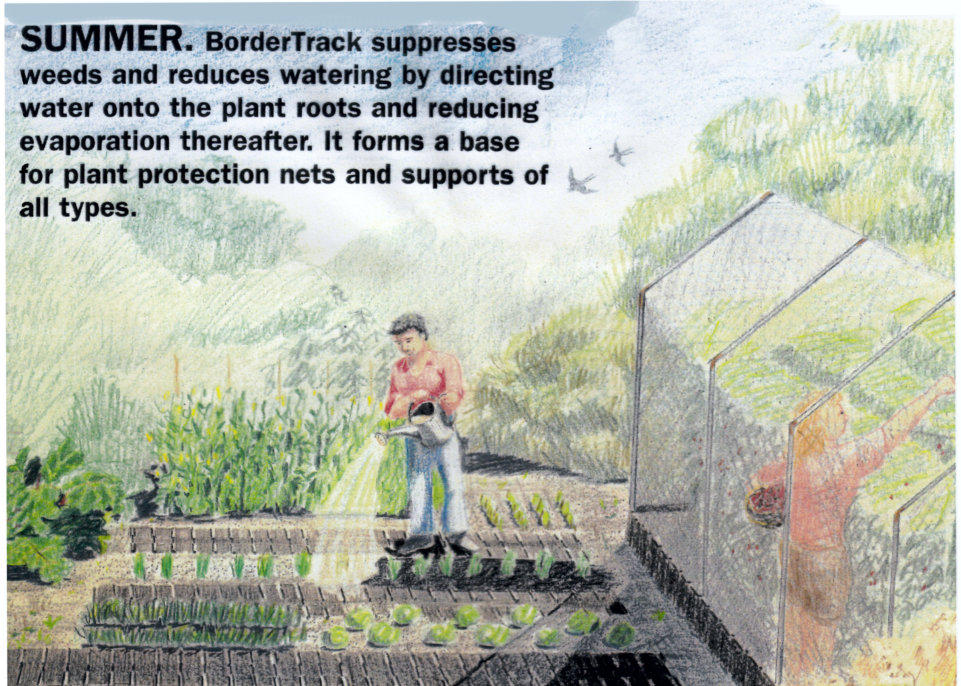 SUMMER.
BorderTrack suppresses weeds and
reduces watering by directing water onto plant
roots and reducing evaporation thereafter. It
forms a base for plan protection nets and
supports of all types.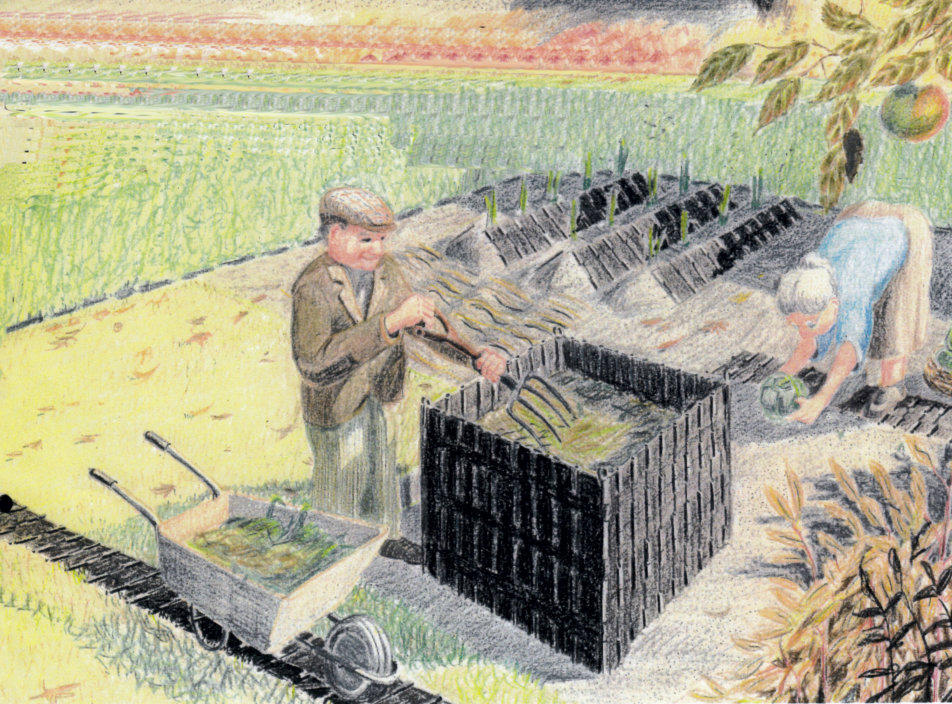 AUTUMN.
BorderTrack allows safe access
for cropping. It can be used to blanch and
protect vegetables from frost. Containers can
be formed for compost or storage.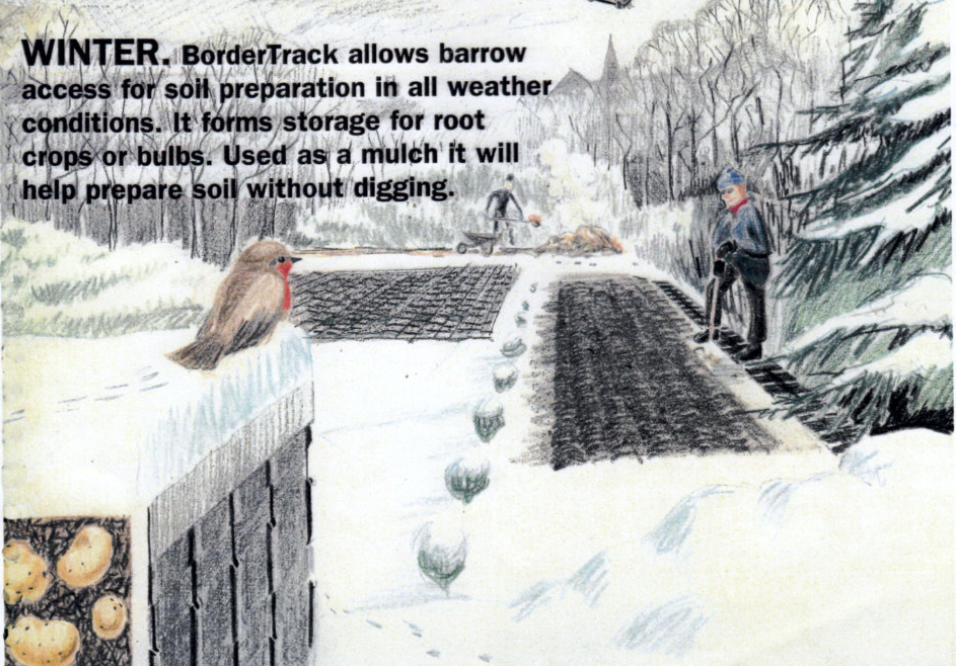 WINTER.
BorderTrack allows barrow access for
soil preparation in all weather conditions. It
forms storage for root crops or bulbs. Used as a
mulch it will help prepare soil without digging.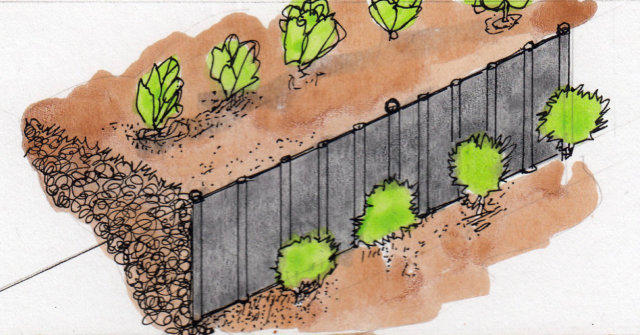 laid out as an access board to prevent soil compression during planting or
sowing, BorderTrack provides both line and spacing for plants. By the use of
the corrugations which are 100 mm apart, thinning out can also be done
accurately.
BorderTrack here preventing the excessive spread of aggressive root
systems from trees or hedges.
BorderTrack used in the formation of compost heaps and root storage boxes.
temporary retention of soil when trenching.
BorderTrack forming temporary water containers using butyl or
polythene lining.
BorderTrack can be used for blanching or banking leeks, potatoes or celery
BorderTrack protects carrots from low flying carrot fly with hoops for
fleece over the top optional
protecting vulnerable plants or stock from wind and creating a suntrap is
an application of BorderTrack either in a permanent arrangement or a
temporary one.
BorderTrack can form a secure base for fruit or brassica cages either
above ground or below to stop rabbits.
BorderTrack here forming secure base for frame for climbing or
vulnerable plants.
if left in place during dry weather, BorderTrack acts as a mulch,
retaining moisture and concentrating watering onto the roots.
for double digging BorderTrack is useful for setting out, safe access and
drying out of perennial weeds prior to composting.
BorderTrack can be used in conjunction with cloches and protective nets,
while retaining the capabilities above listed.
ripening alliums before storage and protecting strawberries from damp are
uses of BorderTrack
BorderTrack forming
level beds on sloping
ground by creating
retention walls.
BorderTrack forming raised beds for easy access and deep cultivation.
BorderTrack in
wet conditions prevents
soil compaction and
accidents.
BorderTrack may be used for access
over fragile or dangerous surfaces.
As this is not possible to photograph,
here are some nice flowers instead.
to form rubber
or plastic
versions.
Wicker and bamboo prototype:
a non- technical solution.
It is hoped that BorderTrack would be of use to people with
disabilities This is a specialised field and is not dealt with here.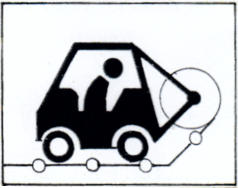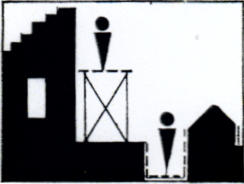 BorderTrack is designed in a rigid
form to be used in construction
and engineering applications,
particulary for tempory works.
BorderTrack has potential
horticultural and agricultural
users in varying climatic
conditions.
For further information / contact
Iain WD Forde,

FRIAS
Causewayend, Main Street
Scotlandwell, Kinross-shire
Scotland KY13 9JA